Carrier Bag Tax in the United Kingdom and wider European Union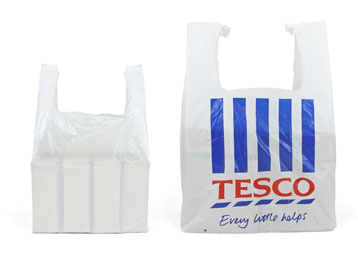 The laws regarding Carrier Bag Tax are changing and, as a responsible retailer and wholesaler of carrier bags, we feel it very important that we provide our customers with the latest Carrier Bag Tax information so you can make informed decisions regarding the products that you buy from us.
The Carrier Bag Tax in question refers to a small tax or levy that some countries within the United Kingdom and mainland Europe are applying to all single use carrier bags (including plastic and in some cases paper carrier bags as well) in an effort to help reduce litter and ease wastage on non-renewable resources. In layman's terms this means that if a customer buys a product from a retail outlet and requires a carrier bag to carry it in then the retailer must charge the customer a small tax. This tax varies depending upon the country but is typically between 5p and 20p per bag.
Depending upon the country, the tax will affect all high street retailers, takeaways and market traders and even internet retailers in some cases. Traveling retailers such as market traders and festival traders who do business in more than one country should take note as you may be required to charge a carrier bag tax in some countries that you travel to.
Country specific information relating to Carrier Bag Tax Laws
Country
Current Carrier Bag Tax Law
England
No current carrier bag tax law.

Wales
As of October 1st, 2011 a tax must be charged on all single use carrier bags. For more information please visit www.carrierbagchargewales.gov.uk

Scotland
No current carrier bag tax law but the Scottish Government is currently in consultation with retailers regarding the issue
Northern Ireland
As of April 2013 a tax must be charged on all single use carrier bags.

Republic of Ireland
As of March 2002 a tax must be charged on all single use plastic carrier bags. For more information please visit www.environ.ie/en/Environment/Waste/PlasticBags
Mainland Europe
There is currently no carrier bag tax law that covers the entire European Union. However, retailers in many countries in mainland Europe already voluntarily charge customers extra for carrier bags
Please note that all information is provided as guidance only. Whilst we make every effort to keep information up to date we make no guarantees regarding its accuracy and it should not be treated as a substitute for legal advice. Where appropriate we provide links to other websites that we believe may be of interest.