Currencies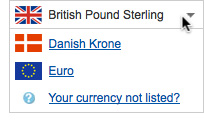 For your convenience, the TraderSupplies.co.uk website allows you to shop in your local currency. Exchange rates are updated daily.
To switch to another currency, simply click the currency name in the top right hand corner of this webpage as illustrated in the image to the right. A drop down menu will appear allowing you to choose an alternative currency.
Note that all shopping basket values, regardless of currency selected, are debited from your payment method in British Pounds Sterling.
Your currency not listed?
The TraderSupplies.co.uk website currently only accepts orders from selected countries. See all countries that we currently deliver to.
We do, however, ship worldwide but for currencies and countries not listed you will need to contact us for a bespoke delivery solution.