TraderSupplies.co.uk donates Market Equipment to East End London's Roman Road Market
Roman Road Market lies at the heart of London's East End. Although initially unsuccessful in its bid for funding to regenerate the market and surrounding area through the governments "Portas Pilot" initiative, Roman Road was awarded part funding during the second round of "Pilots" announced in summer 2012 and was chosen as the focus of an hour long Channel 4 documentary headed up by retail guru and government adviser Mary Portas who takes on the job of revamping the somewhat dilapidated high street upon which Roman Road Market is situated. As part of the regeneration, TraderSupplies.co.uk were approached by Mary Portas to donate new market stall equipment, including market stall tarpaulins and market trader money belts, to the Roman Road traders. As a former resident of Roman Road, one of our company directors, Duncan Kenning, was very keen to be involved with the project and we subsequently spent several days working with Mary, her team and the Roman Road Market Traders to prepare the market for its grand reopening on November 10th, 2012.

Back in 2011, Portas produced a 28-point report for David Cameron's government on how to revitalise Britain's ailing town centres in which she placed emphasis upon the great potential for town centre markets to bring footfall and resultant business back into dormant areas of the highstreet that have become neglected in recent times. As a company that has been supplying direct to markets and market traders throughout the country for the last 40 years, it's a policy that we back wholeheartedly. We've witnessed a dramatic decline in town centre trading in the last 15 years and the blame does not rest solely with supermarkets and out of town shopping centres. Local authorities and market operators have been slow to react to the changes brought about by out of town shopping and have done little to entice market traders back onto town centre markets.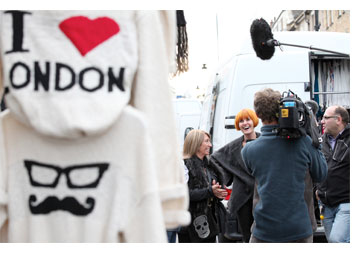 Portas also concludes in her report that red tape has restricted trade on Britain's high streets and that its removal would help encourage more entrepreneurially minded people to get out there and have a go themselves, "People should have a right to sell on high street markets ... Instead of needing to jump through certain hoops of licenses and regulations, why can't we proceed on the assumption that anyone can trade on the high street, unless there is a valid reason why not?" she says.
"Anything that has the potential to bring more first time traders onto a market is worth a shot" says Duncan Kenning, one of the TraderSupplies.co.uk directors. "Markets should be an assault on the senses. They are inherently vibrant and hugely diverse places that need to be entertaining and visually spectacular to keep the punters coming back for more. The more traders a market has, the more chance we have of this happening".

TraderSupplies.co.uk and its staff are delighted to have had the opportunity to help Mary Portas and Roman Road Traders realise their vision of returning Roman Road market to its former glory. We're also very keen to point out that, whilst initially played out in front of TV cameras, the changes that Mary Portas helped bring about are genuine and are here here to stay.
To keep up to date with all the latest developments, you can follow Roman Road Market on Twitter (@RomanRoadMarket) and read their blog here. You can also follow TraderSupplies.co.uk on twitter (@trader_supplies).
The three part Channel 4 documentary series entitled Mary Queen of The High Street begins on Channel 4 on Tuesday May 7th, 2013 at 9pm and will be available to watch again on Channel 4's on demand service 4oD shortly thereafter. The first episode covers Roman Road Market before moving onto the towns of Margate and Liskeard in episodes two and three.